Buying Your Holiday Villa In Moraira
Moraira is a beautiful coastal town on the Costa Blanca. Over the years it has become an increasingly popular place to holiday, drawing in tourists from all over the world due to its balmy climate and sparkling azure blue Mediterranean seas. Many people have come here for holidays over the years and in face fallen so in love with the town they have decided to make it their permanent home.
With its growing multi-national ex pat community and warm and friendly atmosphere Moraira has slowly expanded as more and more people have chosen to purchase a villa, apartment or house here whether its to have a second holiday home or for some, to make the move to live here permanently.
Moraira is well connected with Alicante and Mucia airports close by and good transport links to each. It is situated on the coast just below Javea, another popular tourist resort, and started off life as a small and sleepy fishing village remaining so right up until the 1970's where the booming tourist industry changed it forever. Despite its population swelling in the summer months Moraira still retains a great deal of its original charm with medieval buildings and the fishing port still thriving.
Moraira is particularly attractive to those who are looking for somewhere warm and relaxed to retire. It's climate is one of the best in the world and its beaches are clean and safe. The town itself is small making it easy for people, particularly older people to get around and access all the things to see and do, as well as the local amenities with ease.
The gorgeous beaches make this area very special. Though the main tourist beach is nice, if you really want to be impressed then head to a little beach called El Portet, a winding road lined with beautiful pine trees takes you to the calm and balmy waters of this hidden gem. Others such as L'Ampolla and Plagetes, are also clean and safe making them attractive not just for holidaymakers but for those wishing to make the move with young children as well.
Moraira has lots to offer with a upmarket marina with plenty of outdoor dining options. The  local market selling a wide variety of fresh fruits and vegetables is on a Friday morning and the perfect place to pick up your weekly shop.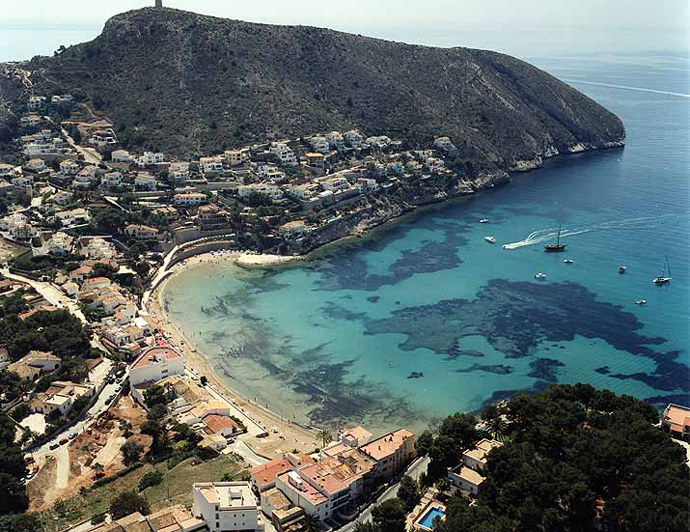 House prices have fluctuated in the area over the years but are now reasonably steady  and good value. Estate agents known in Spanish as inmobiliaria, can help you find the perfect villa or apartment for you. As with all areas there are different accommodation types and locations which will suit different people depending on their circumstances and tastes. A recommended are is El Portet which is close to the town and offers stunning views out to sea. However if you are willing to be a little further away from the town centre than Cumbre del Sol is an up and coming area with great house prices and is very appealing to those with young children thanks to the recently opened Lady Elizabeth school.